toward new horizons
Moderator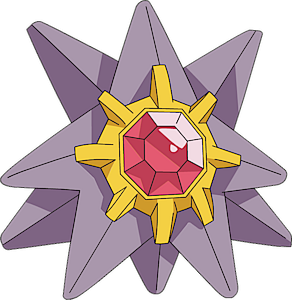 [OVERVIEW]
Starmie returns as a reliable Rapid Spinner and strong attacker. Entry hazards are everywhere in DPP OU, and Starmie's access to reliable recovery, excellent base 115 Speed, and offensive prowess give it opportunities to remove them. Starmie's Speed allows it to outspeed Infernape, Gengar, Choice Scarf Magnezone, and Latias, while its strong Water-type attacks threaten Ghost-types and Tyranitar trying to stop it from using Rapid Spin, even potentially OHKOing Gengar, Rotom-A, and bulkless Tyranitar with Choice Specs after Stealth Rock. Starmie is fantastic support for Stealth Rock weak threats such as Zapdos, Gyarados, and Dragonite as well as grounded Pokemon vulnerable to Spikes such as Breloom, Heatran, Blissey, and Jirachi. Furthermore, Starmie has a fantastic movepool; it can support its team by spreading Thunder Wave or can go on the offensive with options such as Thunderbolt, Ice Beam, Psychic, and Grass Knot. Starmie's Speed, Water / Psychic typing, and serviceable bulk lets it check threats such as Gyarados, Infernape, Jirachi, Heatran, Bronzong, Swampert, and Metagross. Natural Cure especially helps with this—Starmie can switch into status inducing moves such as Heatran's Lava Plume, Jirachi's Body Slam, and Clefable's Thunder Wave to either threaten them out or remove entry hazards with Rapid Spin. It especially helps with Toxic Spikes so it isn't hampered for the rest of the game after removing them.
Starmie is limited by how easily it is Pursuit trapped by the omnipresent Tyranitar and how the metagame has adapted to it. Tyranitar can use a Choice Scarf to outspeed and checkmate Starmie with a faster Pursuit or OHKO all but the most physically defensive sets with Crunch. On the other hand, bulkier Tyranitar sets with a Passho Berry survive even boosted Hydro Pump with ease and remove Starmie. Stealth Rock users have also adapted to Starmie's prowess—even those weak to Water such as Heatran commonly carry Passho Berry to survive Starmie's attacks and KO back with Explosion or Hidden Power Grass. On top of this, Starmie's overall average bulk and vulnerability to residual damage is easily taken advantage of. Starmie is weak to all three entry hazards, sand, and often wants maximum Speed; this makes it difficult to invest into its bulk to better survive Tyranitar's attacks or coverage options from Stealth Rock users such as Jirachi's Thunder or Thunderbolt, Metagross's ThunderPunch, Swampert's Earthquake, and Infernape's U-turn. Thus, Starmie often has to choose between staying healthy or making progress. This conundrum is made worse in that DPP OU is notoriously hostile to spinning—even bulkless Tyranitar and offensive Rotom-A can survive Starmie's unboosted attacks and trap it or KO back with Thunderbolt, respectively, while Clefable can use Knock Off to wear it down even more quickly. Offensive Starmie can be particularly devastating against opposing offensive teams due to its Speed, power, and coverage, but is extremely frail and relies on the inaccurate Hydro Pump.
[SET]
name: Defensive Rapid Spin
move 1: Rapid Spin
move 2: Recover
move 3: Surf / Hydro Pump
move 4: Thunder Wave / Thunderbolt / Psychic
item: Leftovers
ability: Natural Cure
nature: Timid
evs: 252 HP / 4 Def / 252 Spe
[SET COMMENTS]
Moves
========
Rapid Spin and Recover give Starmie the longevity to remove entry hazards over the course of the game. This longevity is especially helpful against defensive teams lacking a Pursuit user and against Stealth Rock users weak to Water like Heatran, as Starmie can survive a long time and potentially keep entry hazards off of the field. Rapid Spin especially has a huge quantity of PP, allowing Starmie to PP stall foes that struggle to hurt it, such as Blissey, Skarmory, and defensive Jirachi. Surf and Hydro Pump hit Gengar, Rotom-A, and Tyranitar hard; Surf 2HKOes bulkless versions of all three most of the time after Stealth Rock. Hydro Pump guarantees the ranges on bulkless Rotom-A and Tyranitar and generally is more threatening, but has poor accuracy and PP for a defensive Pokemon. This is exacerbated by defensive structures featuring Protect users such as Heatran and Jirachi, as they can take multiple Hydro Pump and force Starmie to conserve PP over the course of the match. While Surf is especially underwhelming against more defensive Tyranitar, it is the primary option for reliability.
In the last slot, Thunder Wave is the primary option to prevent a wide variety of foes from setting up on Starmie. Thunder Wave synergizes well with Surf, as it threatens Ground-types immune to Thunder Wave. Paralysis helps Starmie slow down Choice Scarf Tyranitar, Gengar, and Choice Scarf Rotom-A as well as ruins both defensive and Calm Mind Jirachi, Dragon Dance Gyarados, and Suicune. Starmie has a wide variety of other moves it can use as well. Thunderbolt more directly threatens Dragon Dance Gyarados, as Gyarados cannot OHKO Starmie without Life Orb and a strong attack such as Bounce or Outrage. It also hits Skarmory, other Starmie, and Calm Mind Suicune hard. Psychic has good type synergy with Surf and Hydro Pump, OHKOing Gengar, most Breloom, and hitting Kingdra as hard as possible. Other options include Ice Beam to 3HKO Latias, 2HKO Breloom, and OHKO Dragonite, Gliscor, Flygon. Reflect helps to prevent Tyranitar from trapping it as easily and generally shrug off attacks from Swampert, Metagross, and Bronzong.
Set Details
========
Starmie needs absolute maximum Speed EVs to outspeed Choice Scarf Magnezone; even if this benchmark is not as important to the team, Starmie generally wants at least 216 Speed EVs with a Timid nature to outspeed Latias, Gengar, and Infernape. As the extra EVs are not appreciably enough to prevent Tyranitar from Pursuit trapping it, they are generally put into Speed. Maximum HP lets Starmie survive as much as it can, as it has meager overall bulk and relies on its Speed and Recover to stave off threats such as Swampert and Bronzong. Especially if Starmie uses Psychic or another coverage move, it is possible to allocate EVs into Special Attack. A common EV spread for this is 136 HP / 156 SpA / 216 Spe, as this guarantees Psychic OHKOes maximum HP Breloom and Gengar and Surf 2HKOes bulkless Tyranitar and Rotom-A after Stealth Rock.
Alternatively, with a Bold nature and 252 HP / 176 Def / 80 Spe EVs, Starmie is much more bulky and can more reliably take on Swampert, Metagross, Gyarados, and Bronzong while still outspeeding Adamant Lucario, Heatran, and Mamoswine. However, Starmie is now outsped by Infernape and Gengar, two foes it is supposed to threaten, and can be flinched by faster Jirachi.
Usage Tips
========
The number one rule of using defensive Starmie is to not be too hasty using it to remove entry hazards; if brought in constantly, it is both very easy to wear down via residual damage and remove with Pursuit. Unless it is absolutely necessary to check a threat or remove entry hazards, Starmie is more effective if used cautiously. Bring it in later in the game, possibly after the opposing Stealth Rock or other entry hazard user has been KOed, to force the opponent to either check it or risk losing their entry hazards. Starmie is excellent at soft checking Pokemon such as Heatran, Infernape, Metagross, and Hippowdon with its coverage and Speed; this is especially nice if they are the primary Stealth Rock user. This situation forces the opponent into the uncomfortable position of either letting their Rotom-A or Gengar take Surf and potentially Thunder Wave or lose their entry hazards. Continually weakening these Ghost-types can facilitate spinning.
Starmie generally does not want to be on the field for very long against most teams—while it can PP stall with Rapid Spin, it is not very bulky and has limited Recover PP. Try to stay clear of Tyranitar, as Starmie not hitting it on the switch is usually a death sentence either via Pursuit if it switches or Crunch if it stays in. Starmie also should try to avoid Clefable's Knock Off if possible, as it really struggles to stay healthy in sand without Leftovers. While Starmie can heal off status from foes such as Heatran and Jirachi with Natural Cure, Starmie is easily worn down status typically forces it to continuously use Recover.
Team Options
========
Starmie is generally the best support in the tier to Stealth Rock weak Pokemon such as Zapdos and Dragonite as well as grounded walls weak to Spikes or Toxic Spikes such as Blissey, Jirachi, and Celebi. Removing Stealth Rock makes physically defensive Zapdos oppressive to deal with, as it has fantastic overall bulk, great coverage, Pressure, and excellent defensive typing. More offensive Zapdos enjoys using its natural bulk to survive one attack and hit hard in return, something much more difficult to do with Stealth Rock. Dragonite, especially Choice Band or more defensive Dragon Dance sets, enjoy being able to switch back in later in the game without worrying about Stealth Rock. Due to how much Spikes warps DPP OU, Starmie is generally a great partner for grounded partners such as Tyranitar, Heatran, Breloom, Swampert, Abomasnow, Scizor, Metagross, and Jirachi, as it prevents them from being worn down. Tyranitar is especially prevalent, as it can Pursuit trap Rotom-A to prevent spinblocking.
With Thunder Wave, Starmie is great support for teams built around paralysis spreaders, as they generally let entry hazards go up easily and want to use the much more bulky Blissey to stop special attackers. Starmie also provides good speed control for these builds and checks dangerous Pokemon such as Infernape, Gliscor, and Gengar. Some example partners include Blissey, Jirachi, Zapdos, Machamp, Clefable, Magnezone, and Breloom. Machamp in particular is an excellent partner, as it is very slow and has just enough bulk to avoid 2HKOes. It appreciates Rapid Spin support to compromise its bulk and Starmie can paralyze foes such as Jirachi, Skarmory, and Metagross to facilitate it getting a Substitute. Jirachi can use Starmie's paralysis support to Iron Head flinch foes and act as a back-up check to almost anything in the tier with a defensive set. Breloom both enjoys paralysis support with a Swords Dance set and mitigate its Spikes weakness. Magnezone also helps prevent Skarmory from setting up entry hazards later in the game and can potentially remove dangerous Steel-types such as Heatran, Metagross, and Bronzong that try to use Explosion on Starmie. Starmie also is great support for powerful Pokemon that need paralysis support such as Choice Band Tyranitar, Substitute + Nasty Plot Togekiss, and Rhyperior.
Starmie is also great alongside other ways to wear down Tyranitar, such as Heatran and Zapdos. Toxic Spikes are also effective for wearing it down, especially since it often does not have ways to heal status or residual damage. Celebi can also lure in Tyranitar and weaken it with Grass Knot or U-turn and appreciate Rapid Spin support. Other ways to take advantage of Tyranitar such as Substitute Breloom, Swords Dance Scizor, Rock Polish Metagross, Substitute or otherwise physical Jirachi, and Swampert are appreciated.
[SET]
name: Offensive Rapid Spin
move 1: Hydro Pump
move 2: Thunderbolt / Grass Knot
move 3: Ice Beam
move 4: Rapid Spin
item: Colbur Berry / Leftovers
ability: Natural Cure
nature: Timid
evs: 252 SpA / 4 Def / 252 Spe
[SET COMMENTS]
Moves
========
Starmie can take advantage of its fantastic coverage and offensive prowess to provide opportunities to use Rapid Spin. Hydro Pump makes Starmie very threatening, OHKOing bulkless Heatran and Gengar after Stealth Rock and 2HKOing Rotom-A, Metagross, and Tyranitar without a Passho Berry. Thunderbolt pressures Water-types, hitting Starmie, Suicune, and Gyarados hard. Grass Knot is another option to surprise Swampert and hit Suicune harder at the expense of only hitting Gyarados neutrally.
Ice Beam provides crucial coverage for Dragon- and Grass-types, OHKOing Dragonite, Flygon, and frailer Breloom while also hitting Latias, Zapdos, and Celebi hard. Ice Beam gives an accurate attack to hit weakened Ground-types such as Gliscor. Starmie's coverage allows it to hit most Water resists super effectively except for weather Pokemon such as Kingdra, Ludicolo, and Abomasnow.
Set Details
========
Offensive Starmie needs maximum Special Attack EVs and maximum Speed EVs with a Timid nature to be as threatening as possible. With the Special Attack investment and its coverage, it is difficult for frailer hyper offensive teams to switch into. Starmie has an excellent speed tier that facilitates this; Starmie needs absolute maximum investment for Choice Scarf Magnezone and also enjoys outspeeding Latias, Gengar, Infernape as well as tying itself and Azelf.
Starmie has a couple of item choices. The foremost one is Colbur Berry to stave off Tyranitar. Without investment, Starmie is extraordinarily frail and very easy to trap. With a Colbur Berry, Starmie can survive any Tyranitar attack and either remove entry hazards, switch out, or 2HKO back. Leftovers is another option to make up for its frailty, as it heals Starmie in sand and makes up for lacking Recover. Another choice is Life Orb, which hits extremely hard and punishes frailer teams. However, the recoil damage makes Starmie faint exceptionally quickly against more defensive foes such as Jirachi and Clefable.
Usage Tips
========
Offensive Starmie is only designed to remove Stealth Rock and other entry hazards once or twice at most a game and requires careful play to get the most out of it. Starmie's power and extra coverage is often unexpected and it can be very dangerous for offensive teams to deal with due to its power and Speed. Use this pressure to remove entry hazards, preferably after the opposing Stealth Rock user is incapacitated. Predicting switches to either Ghost-types or pivots and hitting them hard can be backbreaking for both offensive and defensive teams. Colbur Berry is also relatively unexpected, meaning Tyranitar can be 2HKOed if it tries to switch into Starmie. However, Starmie is very frail and cannot heal, so try to pick your spots and only remove entry hazards when absolutely needed.
Team Options
========
Starmie fits best on bulky offense and hyper offense teams as it tends to faint quickly and does not provide any form of long term pivoting. Pokemon that enjoy entry hazard removal such as offensive Zapdos, Gyarados, Dragonite, and Abomasnow appreciate having Starmie as a partner to use Rapid Spin. Offensive Pokemon vulnerable to Spikes such as Scizor, Jirachi, Heatran, and Breloom also enjoy Starmie's Rapid Spin, particularly Scizor and Jirachi who can U-turn to keep momentum against Tyranitar. On the other hand, Starmie enjoys partners that help it beat Blissey and Clefable, such as Breloom, Metagross, Tyranitar, and Scizor. Scizor and Tyranitar can Pursuit trap them as well as Latias, a common pivot for more offensive teams. Explosion lures such as Heatran and Gengar can also be effective. In terms of offensive synergy, Starmie appreciates being paired with other special attackers that are also vulnerable to Tyranitar so they can overload it. Ghost-types such as offensive or Choiced Rotom-A and Gengar, Calm Mind Jirachi, Electric-types such as Zapdos, and Latias can be effective. Starmie is also useful alongside other Water-types such as offensive Calm Mind Suicune, Gyarados, Kingdra, Vaporeon, and offensive Empoleon to overwhelm opposing Water resist and help them against entry hazards.
[SET]
name: Choice Specs
move 1: Hydro Pump
move 2: Psychic / Thunderbolt
move 3: Rapid Spin / Ice Beam
move 4: Trick
item: Choice Specs
ability: Natural Cure
nature: Timid / Modest
evs: 252 SpA / 4 SpD / 252 Spe
[SET COMMENTS]
Moves
========
Choice Specs makes Starmie's Hydro Pump extremely dangerous, such as OHKOing bulkless versions of Tyranitar and 2HKOing even bulky ones after Passho Berry. Even walls such as Clefable and offensive Water resists like Dragonite, Gyarados, opposing Starmie, and Breloom have a decent chance to be 2HKOed by Hydro Pump. While Surf is a possible choice, the power of Hydro Pump against especially Tyranitar and Ghost-types makes it the preferred choice. Psychic hits various Water-, Dragon-, and Grass-types such as Kingdra and Roserade very hard, but watch out for Tyranitar switching in to Pursuit trap it. Psychic hits neutral targets so hard it mitigates the need to run coverage moves, as especially offensive teams try to blunt Starmie's impact by switching in resistances. Because of this, Starmie can run Rapid Spin to fulfill itrole as a spinner on predicted switches.
However, Thunderbolt and Ice Beam are very helpful, as Thunderbolt always OHKOes Wacan Gyarados after Stealth Rock, 2HKOes +1 offensive Suicune after Stealth Rock, and defeats more defensive Water-type checks such as Milotic on predicted switches. Ice Beam is Starmie's best choice to hit Latias hard, always 2HKOing it and providing a more accurate option for Flygon and Gliscor. To round out the set, Starmie can Trick its Choice Specs away to walls such as Clefable, Blissey, and even defensive Latias trying to absorb Hydro Pump.
Set Details
========
Starmie needs maximum Speed investment and a Timid nature to outspeed threats such as Gengar, Latias, and Choice Scarf Magnezone and speed tie Azelf, itself, and Raikou, while maximum Special Attack EVs are necessary to hit as hard as possible. Starmie has no recovery and is incredibly frail, so it should not use any bulk EVs. Starmie can use a Modest nature, as the power level is enormous, 2HKOing Clefable guaranteed and powering through offensive Water-resists, but losing out on outspeeding Latias, Infernape, and Gengar is a big loss.
Usage Tips
========
Offensive Starmie should come into the game relatively early or lead to start blasting through with Hydro Pump. Starmie is extremely frail and should avoid switching in directly; getting it in via predicted switches or with U-turn is very helpful. Starmie decimates many offensive teams with soft Water resistances or easily predicted pivots, so it should be attacking as often as possible when it's in. Before it uses Trick, Starmie should only be using Rapid Spin in an emergency, as it requires predicted switches to get in and often cannot take more than one hit. Against more defensive teams, Trick can be an excellent weapon against passive walls and then Starmie can remove hazards more easily, but watch out for Tyranitar trying to trapping it.
Starmie can get a lot out of predicted switches, as predicting Latias or Suicune with the appropriate move can be backbreaking. This also helps preserve Hydro Pump PP. However, it's often best to just use Hydro Pump against offensive teams, as just Stealth Rock and Hydro Pump is often enough to break through.
Team Options
========
Choice Specs Starmie fits best on fast pace offenses that both want to have an emergency spinner and can afford the loss of tempo should Starmie Hydro Pump into a Water resist and be able to KO it on the follow up turn. As Starmie is very frail, U-turn attackers vulnerable to Spikes such as Scizor and Infernape make excellent partners. Both assist Starmie in dealing with Latias, one of the most prominent Water resists, as Infernape hits it with U-turn on the switch-in and Scizor can potentially trap it. Although Starmie can break through special walls w Trick and power, supporters such as Breloom, Explosion Heatran, and Gengar are also helpful. Gengar especially enjoys Starmie blasting through Tyranitar trying to remove it. To help deal with the momentum loss of using Hydro Pump into bad targets, some good choices include utility Tyranitar, Gliscor, Jirachi, and defensive Empoleon. These Pokemon help absorb various Water-, Grass-, and Dragon-types such as opposing Empoleon, Roserade, Celebi, Latias, and Dragonite. As Starmie is highly effective in blasting through soft Water resists, additional Water-type sweepers are effective alongside it, such as Agility Empoleon, Dragon Dance Gyarados, offensive Calm Mind Suicune, and Rain Dance Kingdra. Some additional good partners include Swords Dance Lucario, Dragon Dance Tyranitar, and offensive Calm Mind Jirachi.
While Choice Specs Starmie can be used to support Stealth Rock weak teammates like Zapdos, this is often difficult to pull off due to Starmie's frailty and the unfavorableness of being locked into Rapid Spin. Remember that Choice Specs Starmie is primarily a strong attacker who can remove entry hazards in an emergency.
[STRATEGY COMMENTS]
Other Options
=============
Starmie is perhaps the best user of Trick + Flame Orb in the tier, as Starmie naturally threatens Fire-types immune to burns, lures in and ruins Pursuit Tyranitar and Scizor with a Flame Orb, and has Natural Cure to rid it of burn after it switches out. However, since Flame Orb reveals itself immediately, is neutered by Clefable, and chips Starmie very quickly, it should either lead or come in on a sacrifice and use Trick immediately to get make sure it gets the most out of it. Starmie can also run a Choice Scarf, as its high Speed and good coverage make it a serviceable revenge killer as it notably outspeeds very fast threats such as neutral-natured Kingdra in rain and +2 neutral-natured Dragon Dance Gyarados. However, without the power boost from Choice Specs, it is even weaker to Pursuit trapping than normal. Starmie's wide support movepool includes dual screens, which in conjunction with Rapid Spin, can help set up Stealth Rock weak teammates such as Dragonite and Gyarados, but Starmie often has better things to do. Starmie can use Toxic instead of Thunder Wave to more immediately threaten Tyranitar and Rotom-A, but Starmie's other common switch-ins such as Clefable and Steel-types generally don't mind Toxic.
Checks and Counters
===================
**Pursuit**: Starmie's frailty and weakness to Dark-types is a huge problem, as they can remove it without fail. Tyranitar is the biggest menace, as Choice Scarf sets checkmate Starmie with a faster Pursuit, while bulkier sets or those with a Passho Berry shrug off even boosted Hydro Pump and remove Starmie. While not as strong or bulky, Scizor similarly forces Starmie into a difficult position with U-turn or Bug Bite and Pursuit. While Weavile can't switch in, it notably OHKOes offensive Starmie after Stealth Rock and a round of sand with a Choice Band Pursuit and naturally outspeeds it.
**Special Walls**: Unless Starmie Tricks them Choice Specs, Starmie struggles to damage Clefable and especially Blissey. Their Seismic Toss takes advantage of Starmie's low base HP, while Clefable's Knock Off wears Starmie down even faster.
**Electric-types**: Starmie's frailty means most Electric-types easily OHKO it. While Zapdos, Rotom-A, and Magnezone don't enjoy paralysis or Starmie's boosted attacks, they can generally survive one hit and OHKO back.
**Ghost-types**: Ghost-types block Rapid Spin and OHKO Starmie back with Shadow Ball. Both Rotim-A and Gengar should be careful, however, and Starmie outspeeds and potentially OHKOes them.
**Dragon-types**: Especially if it lacks Ice Beam, Starmie is setup fodder for dangerous sweepers such as Dragon Dance Dragonite and Kingdra. Even with Ice Beam, Latias is only 2HKOed by Choice Specs Ice Beam and is an excellent pivot against Starmie's Hydro Pump for offensive teams.
**Grass-types**: Due to resisting Hydro Pump, bulky Grass-types such as Celebi, Abomasnow, and Roserade are good check for Starmie. Breloom notably is an excellent choice against defensive Starmie, as it often can't hit Breloom very hard. Frailer Grass-types should watch out for Ice Beam, however.
**Water-types**: Water-types such as Quagsire, Suicune, Gyarados, Milotic, and other Starmie often can either set-up on defensive Starmie or force it to use Thunderbolt or Grass Knot, allowing a teammate to switch-in more easily. Water Absorb Quagsire is especially good at this, as it is immune to both Hydro Pump and Thunderbolt. However, as most Water-types lack the coverage to hit Starmie super effectively, it can hit them hard with Thunderbolt and Grass Knot.
**Residual Damage**: Starmie is grounded, often tasked with removing entry hazards, vulnerable to all status, and weak to sand. It gets worn down every quickly even with Leftovers.
**Faster Pokemon**: While Starmie is fast, it notably struggles with Pokemon faster than it that can hit it hard. Choice Scarfers such as Rotom-A, Flygon, Tyranitar, and Latias are all strong choices to outspeed and OHKO Starmie, but beware of Thunder Wave.
[CREDITS]
- Written by: [[Emeral, 72767]]
- Quality checked by: [[johnnyg2, ], [, ]]
- Grammar checked by: [[, ], [, ]]
Last edited by a moderator: