ghost town
Welcome to Scarlet and Violet National Dex Anything Goes! This thread will be used for all things related to the new metagame - theorymonning, metagame observations, and set sharing are all encouraged! Since we're entering a new generation with some pretty unprecedented differences, I'll clarify exactly how Scarlet and Violet National Dex Anything Goes is going to work:
Building On Gen 8 NDAG: The release of Scarlet and Violet will inherit the pre-existing inclusive Sword/Shield National Dex Anything Goes's mechanics, movepools, and Pokémon. Nothing will be cut — things will only be added.

You may find an overview of SS NDAG battle mechanics here.

New Moves On Old Pokémon: Old Pokémon have been granted new moves with the release of Scarlet and Violet. We hope to have the full list soon.
Z-Moves, Mega Evolving, and Terastallizing: No Pokémon may do more than one of these mechanics and each mechanic may only be used once on each team. For example, a Pokémon that has Mega Evolved may not used a Z-Move, or Terastallize. Z-Crystals should be updated to be compatible with the new Pokémon Scarlet and Violet moves.
Dynamaxing: Unfortunately, dynamaxing will not be a mechanic available in Scarlet and Violet National Dex Anything Goes due to coding restraints surrounding the arrival of Terastallizing.
Council:
New Pokemon / Early Metagame Observations:
Terastallize
Terastallizing a Pokémon is the new mechanic that arrived with Pokémon Scarlet Violet. While Terastallized, Pokémon receive a boost to moves that match the Tera Type, and receive an additional boost if the Tera Type and move used both match one of the Pokémon's original types. Pokémon can only have one Tera Type, and dual-type Pokémon become single-type upon Terastallizing, however
STAB
still takes effect for moves matching the Pokémon's original type(s), regardless of whether the Pokémon's Tera Type matches that move while Terastallized. The move
Tera Blast
changes type to the Pokémon's innate Tera Type upon Terastallization. [Source: Bulbapedia]
Koraidon and Moraidon
These are the two flagship legendary Pokémon of the new generation, boasting incredibly high offensive stats and unique abilities that bolster their offensive abilities. They seem to be the centralizing forces of this generation and it will be interesting to see how the metagame is shaped around their presence.
Arceus
Arceus was already a centralizing force in National Dex Anything Goes before the release of Pokémon Scarlet Violet. With the release of this new generation however, Arceus now has access to Taunt, Bulk Up, Dragon Dance, and more. In exchange, Recovery got nerfed to 8 pp. Arceus's place in the new metagame will be an exciting one to anticipate.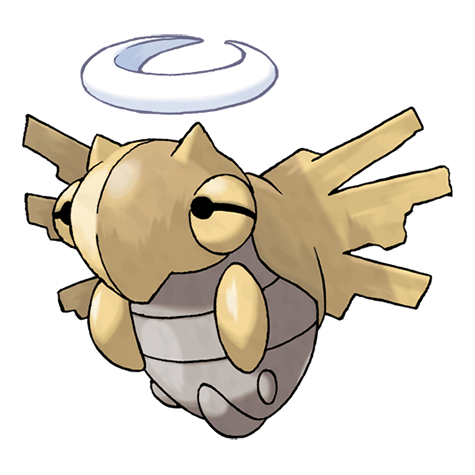 Shedinja
Shedinja is in an interesting place due to Wonder Guard's amazing synergy with Terastallization. It can now change its typing to shift its weaknesses and even block things such as Sandstorm, Toxic, and Leech Seed damage.
Prankster + Assist + Revival Blessing
In previous iterations of Anything Goes, Prankster + Assist were most commonly utilized on Liepard for priority sleeps with Spore. However, the move Revival Blessing was released in Scarlet Violet, a move with 1 pp that is able to revive a feinted Pokémon and bring it back at half HP. Theoretically, you could infinitely revive your Pokémon with this method. However, it should be noted that in order to pull this off, one would have to build their entire team around the strategy because in order for Assist to guarantee select Revival Blessing, the rest of the moves on the team would have to be ineligible to be selected by Assist. This cheese strategy is weak to things such as priority spam (Extreme Speed from Arceus/Rayquaza-Mega) and Taunt.
That is all for now. I will add more as more information becomes readily available - Discuss away!
Last edited: