don't let go of your dreams
UU Leader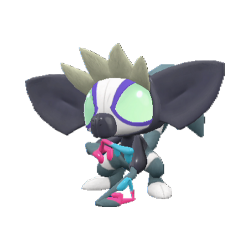 [SET]
name: Offensive Prankster
move 1: Gunk Shot
move 2: Knock Off
move 3: Parting Shot
move 4: Encore
item: Heavy-Duty Boots
ability: Prankster
nature: Jolly
evs: 252 Atk / 4 SpD / 252 Spe
tera type: Poison
[SET COMMENTS]
Grafaiai is one of the most infuriating pivots to play around when using its signature Prankster set, and it's not hard to see why. Thanks to Encore, Grafaiai can lock any non-Dark-type Pokemon it wants into its move, a trait particularly deadly against setup sweepers like Dragon Dance Haxorus, Quiver Dance Oricorio-E, and Swords Dance Scizor. Its unique typing also lets it act as a serviceable check to Pokemon like Gengar, Mimikyu, and Polteageist despite its mediocre bulk. Gunk Shot provides an excellent STAB option that hits very hard despite Grafaiai's only decent base 95 Attack, and Knock Off is great for crippling switch-ins like Tinkaton, Bisharp and Tyranitar. Parting Shot is very useful when paired with Prankster, allowing Grafaiai to freely pivot out and easing pressure on its defensive teammates when weathering incoming attacks. Tera Poison is usually the preferred option, but Grafaiai is usually not going to Terastallize anyway; if it does, then it prefers to have a strong Gunk Shot to threaten the foe with.
Grafaiai works well with offensive teammates that appreciate its ability to bring them in safely on Pokemon like Tinkaton and Gastrodon, particularly strong Fighting-types that can bust through the weaker Defense of these Pokemon. Good examples include Paldean Tauros-W and Pawmot. Pivot cores with the likes of Choice Band Scizor, Noivern, Sandy Shocks, and Kilowattrel are also effective. Defensively, it is important to have good checks to Tinkaton, Tyranitar, and Bisharp, making Hippowdon, Quagsire, and physically defensive Gastrodon good teammates. Pokemon that sometimes struggle in matchups against hyper offense like Tinkaton and Talonflame appreciate Grafaiai's Encore support. Talonflame can also form a very obnoxious U-turn cycling core with Grafaiai.
[SET]
Bulky Prankster (Grafaiai) @ Heavy-Duty Boots
Ability: Prankster
Tera Type: Poison
EVs: 252 HP / 4 Def / 252 SpD
Careful Nature
- Gunk Shot / Toxic / Low Kick
- Knock Off
- Parting Shot
- Encore
[SET COMMENTS]
Specially defensive Grafaiai is a much better check to some Pokemon it's usually tasked with handling, like Gengar, Oricorio-E, Polteageist and, thanks to the HP investement, Mimikyu. Gunk Shot is an excellent STAB move still, but without Speed EVs, Grafaiai is slower than Pokemon like Pawmot, Tatsugiri, and Iron Jugulis. As such, Grafaiai can swap it out for Toxic to cripple defensive switch-ins like Hippowdon and Quagsire in addition to being a great panic button against Pokemon like Oricorio-E, Dragon Dance Salamence, and Gyarados, or run Low Kick to deal with Dark-types that block Prankster moves such as Bisharp and Tyranitar. If needed, Grafaiai can still run maximum Speed investment on this set if necessary, letting it offensively check Pawmot and Iron Jugulis, though it doesn't hit them too hard without offensive investment. It is generally preferred to maximise its bulk, though.
Grafaiai needs good defensive support, as it can struggle to be self-sufficient due to its inability to do much immediate damage. This makes it a better fit on defensive teams that appreciate its reliability in handling Gengar and the utility provided by its Prankster moves. Good checks to Dark-types like Iron Jugulis, Tyranitar, and Bisharp are the most mandatory teammates, as Grafaiai typically cannot do anything to them save for a weak Knock Off; good options include Tinkaton, Hippowdon, and Paldean Tauros-W, but do note that it is important to check Iron Jugulis and the physical Dark-type Pokemon differently. Scream Tail makes for a great partner too, healing Grafaiai with Wish against Pokemon like Gengar that would typically use Scream Tail as a free switch-in opportunity. It can also handle the likes of Pawmot decently. Teammates like Talonflame can make it easier for Grafaiai to pivot around through burning physical threats, making it a bit easier for Grafaiai to use its typing to handle the likes of Lokix and Slither Wing.
[SET]
Poison Touch Pivot (Grafaiai) @ Heavy-Duty Boots
Ability: Poison Touch
Tera Type: Poison
EVs: 252 Atk / 4 SpD / 252 Spe
Jolly Nature
- Gunk Shot
- Knock Off
- U-turn
- Low Kick
[SET COMMENTS]
Poison Touch Grafaiai is a very difficult Pokemon to switch into, as the combination of Knock Off, Poison Touch, and expanded coverage in U-turn and Low Kick makes typical answers like Hippowdon and Gastrodon lacking Covert Cloak much less happy to switch in. With its boosted coverage, it is much more difficult to wall Grafaiai with the likes of Tinkaton, Tyranitar, and Bisharp, making it a challenge to find Pokemon that can halt it from making progress over the course of a game. Grafaiai can also opt to use Switcheroo over Low Kick with Black Sludge to cripple Pokemon like Hippowdon and Tinkaton even further; while it prefers Heavy-Duty Boots, it can certainly make do with their stolen Leftovers. Tera Poison is chosen to boost Grafaiai's Gunk Shot, while Tera Fighting is also an option for a stronger Low Kick, although neither are particularly great choices, and Grafaiai should rarely be Terastalized anyway.
Poison Touch Grafaiai makes for an excellent pairing with Hex Gengar. Not only does Grafaiai spread poison to boost Hex to meteoric levels of power, but it also weakens Tinkaton and Tyranitar very quickly, two Pokemon Gengar doesn't like dealing with. An important thing to keep in mind when building with Poison Touch Grafaiai is that it can struggle a bit with hyper offense squads; partners that have a strong matchup against those like Kilowattrel, Mimikyu, and Scizor can be very helpful. Taunt Talonflame eases Grafaiai's matchup against offense while also taking great advantage of all the residual damage Grafaiai spreads, notably being a capable check to Scizor if it isn't running Tera Fire. These Pokemon all appreciate Grafaiai's ability to weaken bulky Ground-types, too. Grafaiai loves entry hazard support. since it's so good at removing Heavy-Duty Boots with Knock Off; setters like Gastrodon, Sandy Shocks and Tinkaton make for great partners.
[CREDITS]
- Written by: [[Lily, 481709]]
- Quality checked by: [[Estarossa, 461329], [Queen of Bean, 587685]]
- Grammar checked by: [[autumn, 384270]]
Last edited: